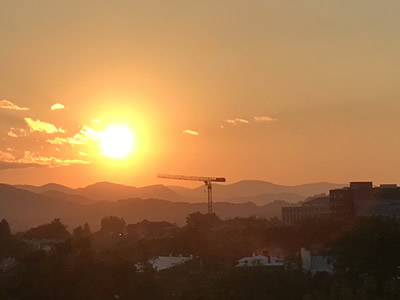 Over the next two years, US providers are planning to "sunset" 3G networks in order to free up bandwidth for faster LTE and 5G signals. In fact, the process has already begun.
So what does that mean for you?
Well it means a lot more than just updating your cell phone. Your home security system will be affected by this change, too.
Not 100% sure what the 3G sunset is or what you need to do? Don't worry, we'll explain it all.
In this article, we'll walk you through:
What the 3G sunset is
How the 3G sunset will affect your home security system
What you need to do to prepare for the 3G sunset

The 3G Sunset refers to how providers will turn off 2G and 3G networks over the next few months/years.
Why are operators making the change?
It's simple really — mobile network providers are turning off older, slower networks in order to add more capacity for 4G LTE and expand their 5G networks.
Once 2 and 3G networks are completely turned off, any IoT (Internet of Things) device will need to transition to LTE connectivity to continue operating.
Now, considering there are over 80 million current 3G devices in North America alone, the 3G sunset won't happen overnight. However, changes are being made now that are pushing users toward LTE connectivity.
That said, depending on your carrier you could lose 3G support as soon as 2020.
For example, effective 1/1/2020 Verizon Wireless no longer allows activations/ re-activations of 3G cellular devices. If an existing 3G device fails it must be replaced with a newer technology LTE device. Effective 12/31/2020 the entire 3G network will shutdown.

Well, if you haven't already, start converting your devices right away.
Keep in mind, though, that most IoT devices purchased and/or installed in the last few years may already be operating on 4G LTE connectivity, which means they will still function well (if not better) once 5G is completely rolled out.
If you are not sure if your alarm communicator is compatible with the new cellular technology call us and we will let you know.
No one likes to be forced to upgrade but we all must do this as we are at the mercy of the cellular companies.
If you are a Protection Systems Inc. customer and you have a communicator that needs upgrading you will be receiving a notice from us and you can arrange the upgrade and we will make this process as painless as possible.