The History of Protection Systems, Inc.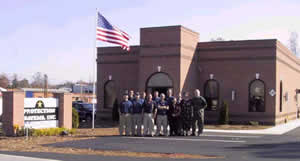 Mel Lohr served in Strategic Air Command (SAC) while he was in the Air Force. When his tour of duty was finished, he came home to High Point to serve in the fire department for six years. With this background Mel had the experience and the knowledge of what it would take to own a security company.
During Mel's time off from the High Point Fire Department, he was working out of his home building Protection Systems. In 1971, he began to make his dream a reality when he finally was able to put his effort full time into making Protection Systems, Inc. what it is today.
Mel recruited his son, Chris, at the age of four when he found it difficult to reach some small attic places. Chris continued helping his father part-time throughout his schooling. After receiving a Bachelors Degree for a double major in Business Management and Economics from North Carolina State University, Chris started working at Protection Systems, Inc., full time in 1988.
Daughter Julie Suggs, also working part-time through school, decided to come on board full time in 1997. She is currently the Vice President and IT Manager. With the powerful team of son and daughter, now continuing in their father's footsteps, Protection Systems, Inc. is one of the leading security companies in the area.
---
Today's Protection Systems, Inc.
Protection Systems, Inc. is an independent alarm dealer. Being independent means we can provide you with the best products for your home or office protection needs. Instead of having to buy a system from someone halfway across the country you have your choice of components from some of the best manufacturers including Honeywell®, Napco®, Moose®, and Ademco Systems®. With all this selection, we can design a system that is right for you.
Our front-line representatives are some of the most experienced in the wholesale monitoring business. Our organization as a whole has daily experience with critical life safety situations and has sustained dozens of natural disasters. All while keeping up with the changing landscape of codes and ordinances all around the United States.